Sonor Drum Kits
Sonor Blue Slate Finish Drum Set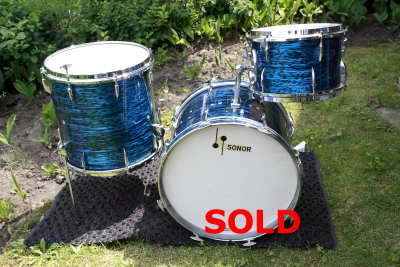 Description:
- Tear Drop Lugs
- Mid 60's
- 3-Piece Drum Kit
- 13x8, 16x16 & 14x20
Comments:
Sonor drums made a concentrated effort in the 60's to make a dent in the American market. Sonny Payne, Don Lamond, and Fred Below were some of the famous drummers who endorsed Sonor.
There were a number of cool finishes, among them the black, blue and red slate wraps. The drums were heavy.

Sonor Performance Series Drum Kit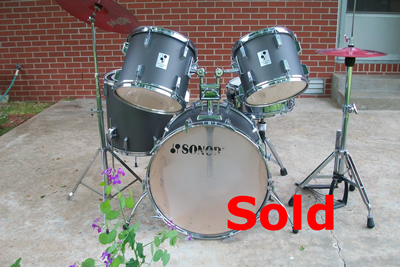 Description:
- Late 1980's, Grey Slate Finish
- 5 drums total: 16 X 22, 16 X 16 , 10 X 12, 11 X 13, 7 1/4 X 14 Metal Snare Drum
- 2 Paiste Color Sound Cymbals: 14 " hi hat, 18 " Power Crash
- Bass drum pedal and Hi Hat Stand included
Comments:
The Sonor Drum Company, like many of its competitors during the 1980's, offered various drum lines in their catalogs.
The Performance series was not the top of the line Sonor kit offered at that time. The Performance series did share the same hardware, lugs, holders, etc, that were on the most expensive Sonor kits. The shell construction was different.

Black Diamond Hi-Lite Exclusive Drum Kit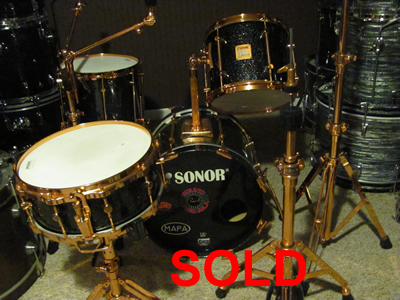 Description:
- Copper Hardware
- Single tom holder, floor tom legs, high hat stand, snare drum stand, Double cymbal stand with two mini boom arms and a single cymbal stand.
- 18 X 14, 14 X 14, 12 X 10, and 14 x 5 matching snare drum
Comments:
The Hi-Lite model was made between 1988-1994. The shells are 9 play maple and the kit comes with exclusive copper hardware.
This kit is used, but overall it is in excellent condition. This Sonor kit is just the ticket for anyone who is looking for a marvelous sounding, yet collectible drum kit.



Quick Contact


Subscribe
Get great drumming tips and Vintage Drum Specials